We are delighted to share NFER's new research report 'Barriers to young people accessing intermediate and advanced apprenticeships: perspectives from apprenticeship providers'
New NFER Research released
22 May 2023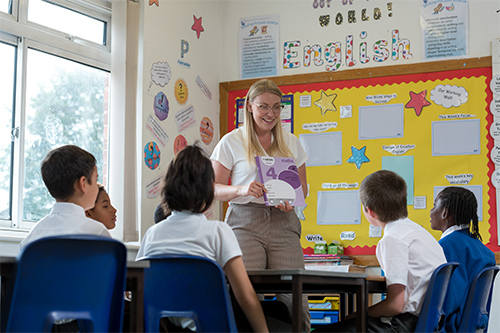 'Barriers to young people accessing intermediate and advanced apprenticeships: perspectives from apprenticeship providers'
We are delighted to share NFER's new research report 'Barriers to young people accessing intermediate and advanced apprenticeships: perspectives from apprenticeship providers'
This report is based on insights gained from a roundtable NFER hosted with groups who offer apprenticeship opportunities.
It highlights that increasing the affordability of apprenticeships could be a 'game changer' in increasing young people's interest in apprenticeships.
The ongoing decline in apprenticeship starts at intermediate and advanced levels for 16-19-year-olds since 2015/16 remains a significant concern.
Providers reported that the most common barrier remains a lack of detailed awareness and in-depth understanding amongst young people, their parents/carers and teachers of apprenticeships and the long-term gains. This is preventing young people from even getting to the point of application.
At the point of application, providers perceived the most common barriers for young people to include: not being 'work ready'; not having GCSE English and maths at Grade 4+ (or the equivalent); low levels of psychological wellbeing, low confidence, lack of resilience, and anxiety; apprenticeships not being affordable; and some apprenticeships not being widely available.
To ensure that opportunities for increasing young people's awareness and understanding of apprenticeships are capitalised upon, the Government should carefully monitor the implementation of the Skills and Post-16 Education Act 2022 to ensure that the enhanced Baker Clause is being actioned.
There is a need for employers to be proactively promoting the progression opportunities that apprenticeships bring, through the inclusion of the apprenticeship standards and levels that are desirable/meet entry requirements for all job roles, not just apprenticeships.
Increasing the affordability of apprenticeships for young people is also essential. This includes addressing the level of the minimum apprenticeship wage, the more widespread introduction of discounted or free travel passes, incremental annual pay increases as an apprentice progresses, to a thorough evaluation of the potentially detrimental consequences of apprenticeships on Child Benefit.
Consideration should be given to encouraging more employers, particularly SMEs, to take on young people who seem to be increasingly losing out to older, more mature applicants. This requires a review of existing incentives, with increased financial aid for employers supporting young people to achieve level 2 in English and maths, and who have other support needs.